http://espn.go.com/chicago/columns/blog?post=4365136&name=dickerson
Wide receiver says the Bears are talking to his agent
July 29, 2009, 9:34 PM
By: Jeff Dickerson
<!-- photo horiz -->
There's been no evidence -- outside of Plaxico Burress -- of the Bears looking for any additional help at wide receiver.
[+]
Enlarge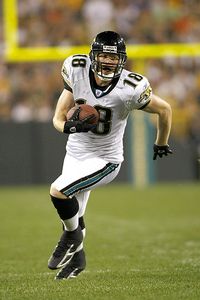 Scott Boehm/Getty Images
Matt Jones says the Bears are one of several teams talking to his agent.
However, the Bears may have quietly done some homework on free agent
Matt Jones
. The talented but troubled Jones, a first-round pick by the
Jacksonville Jaguars
in 2005 -- admitted Wednesday his representatives have engaged in some dialogue with Chicago.
"My agent has talked to the Jets, Titans, Bears and Dallas," Jones told 103.7 The Buzz in Little Rock, Ark. "Things are looking good. Something probably will happen sooner rather than later. We just want it to be a good fit and somewhere where I can get in there and help a team win."
The Bears seem content to let their unproven receivers get as many reps as possible during training camp. Perhaps Jones is simply viewed as an emergency option in the event of an injury. Or maybe Jones is a backup plan if guys like Earl Bennett, Johnny Knox and Juaquin Iglesias bomb this summer. Or maybe the Bears don't have any interest at all.
Just for the record: Jones claims to be in outstanding shape after spending the last four months training down in Florida.