GallopingGhost and I went to Training Camp on Thursday and Friday of this last week. We went with our friends gwl17 (a frequent visitor of WCG) and his girlfriend on Thursday; and alone on Friday. We saw many good things as a whole from our new and improved team, and wanted to share our observations and concerns from what we witnessed.
To begin, a weather report. Thursday practice was a night practice and while the air was a little chilly, it was a perfect night for practice. Friday, on the other hand, was miserable. It was rainy off and on and the conditions were less than ideal. However, the players seemed to be fine in both conditions (a good sign!)
*Disclaimer: All photos were taken by GallopingGhost.*
I will begin with the defense. Overall, the defense seemed to be gelling well. Marinelli and Lovie worked them all very hard at practice. They had them doing hard-hitting drills and it was obvious they were pushing them. The linebackers looked good. They were obviously in shape and did well in the drills. CB Nathan Vasher seemed to struggle a bit, according to GG. He was beat a couple times by both Rideau and Bennett in 7-on-7s and just did not play as well as we thought he would.
One thing that really stuck out in our minds was that the D-line had some great interceptions in drills (like 7-on-7s). S Danieal Manning had one that we really seem to remember. It was exciting that they were working that hard at practice, and we definitely want to see this effort shown on the field when it counts. However, it was a little disappointing that our quarterbacks let this many interceptions go (approx. 3).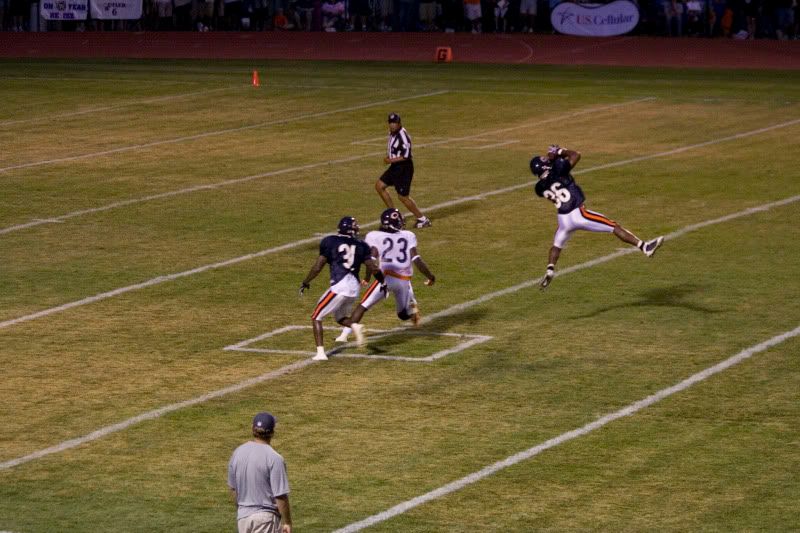 As a sidenote: one thing that stuck out in GG's mind was that in one of the drills, S Craig Steltz laid out TE Kellen Davis and forced an incompletion over the middle.
On a much lighter note, at the very beginning of practice, the D-line and linebackers were having a competition using the crowd to see who could get the loudest cheers. DT Anthony Adams then started "breaking it down" for the crowd and showed us that the Bears are ready for the "big dance." Pun intended. :)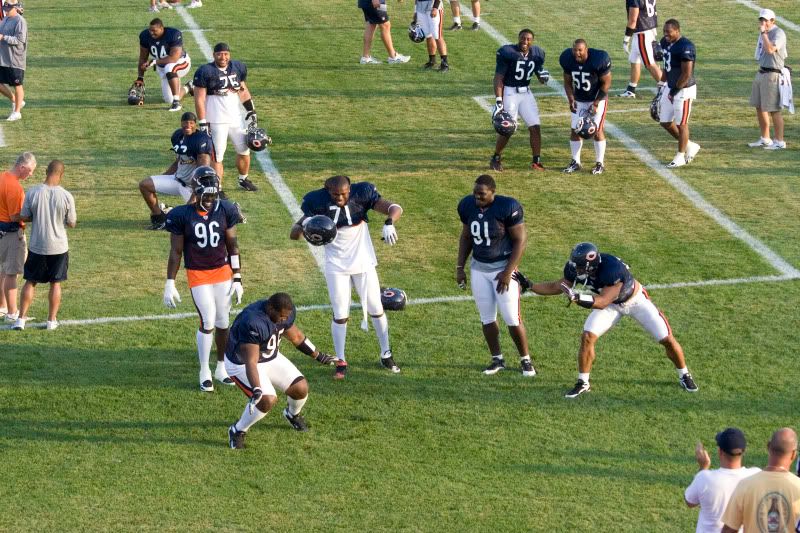 Now, on to the offense: we were very impressed with the offense during both days of practice.
First of all, we felt Cutler was "as good as advertised" (to quote GG) and looked very sharp and accurate. He had a few timing issues with TE Greg Olsen, but it wasn't something that couldn't be worked out. One thing that GG and I still remember is the noise that the ball, thrown by Cutler, made as it was caught by the receivers. We were about 20 rows up on the bleachers and could hear the smack that the ball made when it hit the hands of the receiver. Cutler was throwing bullets out there, and they were just as accurate. It was a great feeling!
As stated before, Olsen did not bring his "A" game on the first day we were there. He had timing issues with Cutler (although they can be worked out easily, in our opinion) and he had a couple of drops. However, Friday showed a much better day.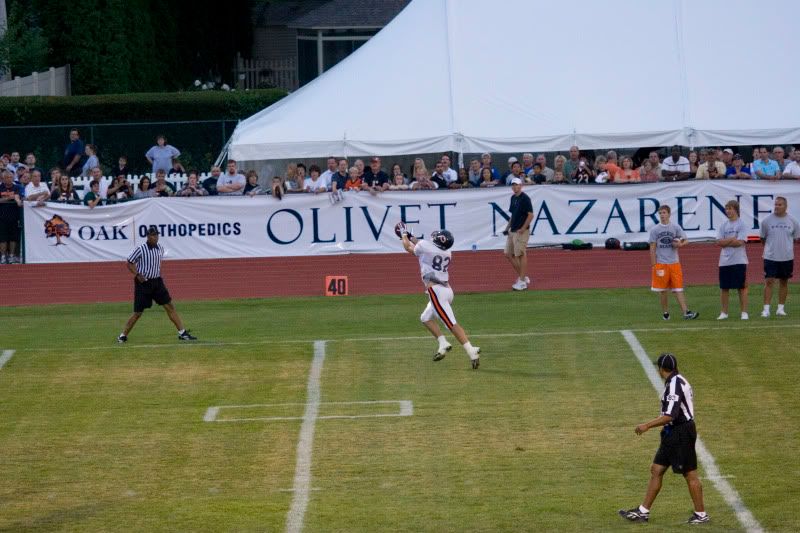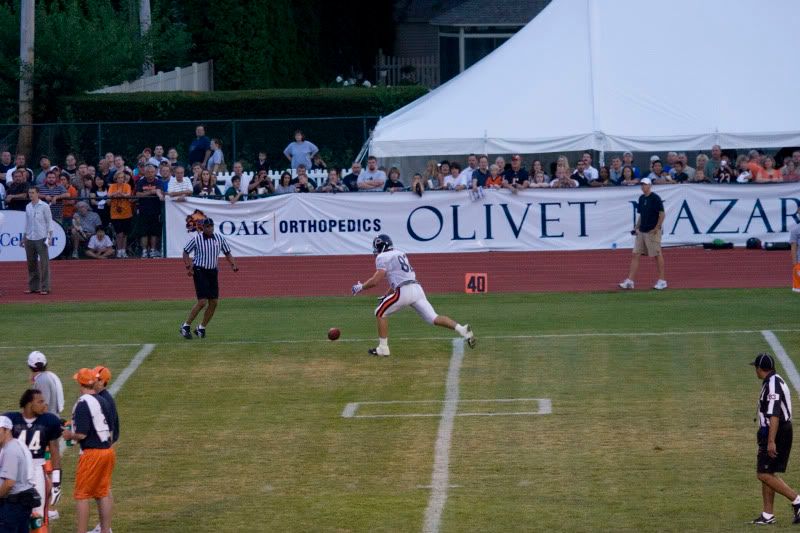 Forte stood out, as always. It was apparent that he had a lighter workload, but he was still stiff-arming and dominating backfield players. Kevin Jones had a great night on Thursday. He broke through several defenders and had a 40-yard run in one of the plays. For me, the outlook is optimistic on this duo.
Another person who stuck out to me was Johnny Knox. He looked really good fielding punts and catching. He also showed that he was able to run through the middle successfully on a couple plays.
One thing to say about our newly acquired Orlando Pace is that he is huge. He stood out over the other offensive players, physically, by far. On the first day, his workload was lower, and Shaffer played LT (very well, I might add) and on the second day, Pace was incredibly impressive. When watching the drills, we noted that no one could get by him. The others just ran into him and stopped. During one of the run drills, he knocked over the opponent - then ran up and blocked Urlacher!
On a sidenote, Davis was the 1st person out onto the field the first day, and he worked catching with the JUGS machine before practice. He seemed to do really well, so hopefully he is improving in the "droppapotamus" area. Also, personally, the assistant offensive line coach, Luke Butkus, impressed me. He was in doing the drills with the offensive line, but without pads! The guys were running up and pushing into his chest, and he didn't even flinch! I thought that was very interesting - and I liked the hands-on approach.
Overall, we have very high hopes for this season - as I'm sure the rest of you do - and I feel very satisfied with what we saw these two days at training camp. The team still has some work to do, but we feel that overall, they were very good and will be ready to do some damage this season! Go Bears!
Here are a few other pictures from GG's collection:
WR Earl Bennett gets two feet in as he catches a touchdown pass at practice.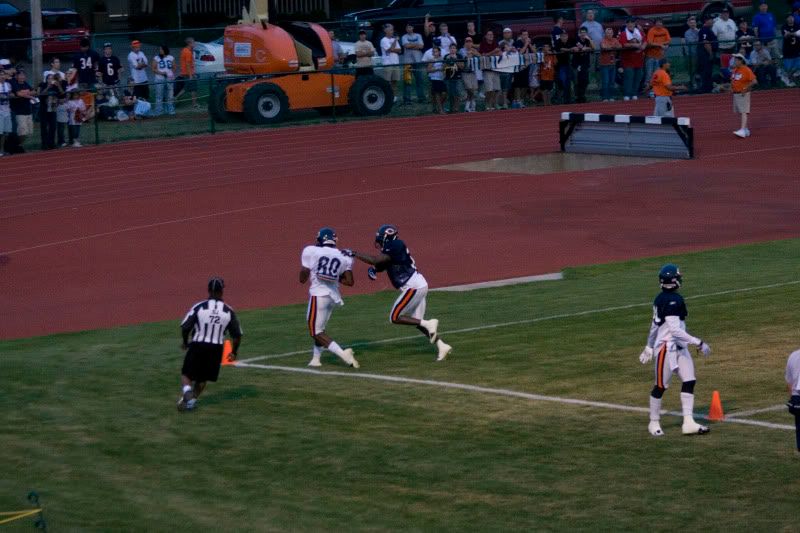 GG and I were surprised that Rashied Davis's wife lets him hold their child, especially with his reputation of dropping things.