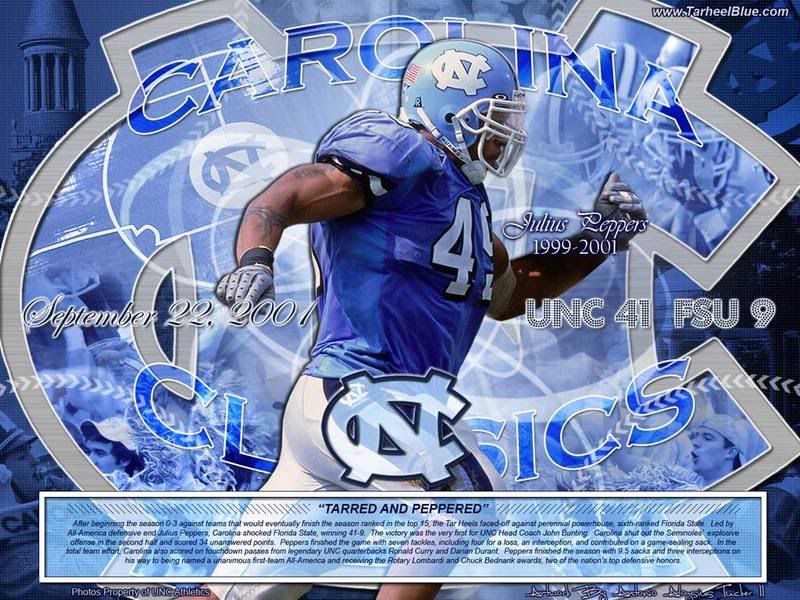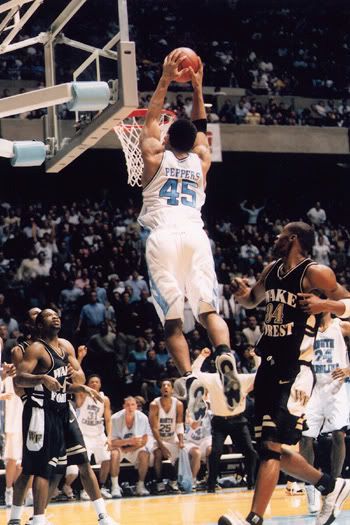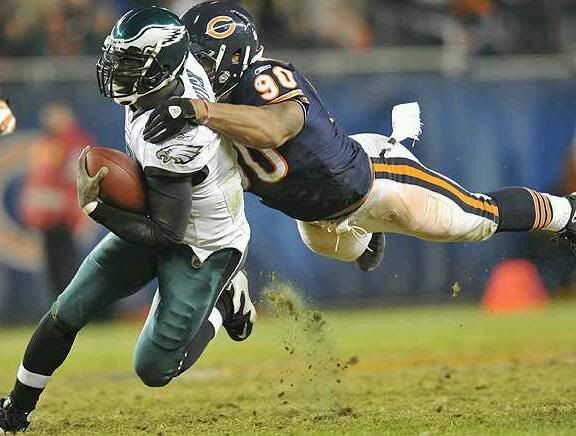 Julius Frazier Peppers is my favorite sports player of all time, I have watched him since he played football and basketball at The University of North Carolina. He is the most exciting player I have ever seen play, he makes so many highlight reel plays just look easy. He is a physical freak of nature, a 300 pound monster of a man, he is the most dominant football player I have ever seen play. I also admire him because he is a good person, he isn't flashy or a cocky me first type of guy. He doesn't celebrate after getting a big sack or interception, he doesn't even celebrate when he scores a touchdown, he acts like everything is normal. He was just a regular kid growing up in the small country town of Bailey North Carolina, that remained humble even after he became rich and famous.
   Peppers was a monster in college at UNC, he only played 3 seasons in college ( he redshirted his freshman year)  and finished his career with the second most sacks in school history with 30.5, Greg Ellis is first in UNC school history with 32.5 sacks over his 4 year career. Julius Peppers also had 15 sacks in his sophomore year which led the nation, and was second most all time in a season in UNC school history to Lawrence Julius Taylor who had 16 sacks in his senior year. Peppers also set a UNC school record his sophomore season with  24 tackles for loss. Peppers also finished his UNC career with 167 tackles, 53 tackles for loss, 5 forced fumbles, 2 fumble recoveries, 5 interceptions, 13 passes defensed, and 3 defensive touchdowns. Peppers also earned some of college footballs most prestigious awards his junior season winning the Chuck Bednarik Award given to the nations best defensive player, the Lombardi Award given to the nations best collegiate lineman,  and the Bill Willis Trophy given to the nations best defensive lineman. Peppers also finished in the top 10 in the Heisman Trophy voting his junior year. Peppers was ranked as the number 1 prospect overall in the 2002 NFL draft by Mel Kiper Jr. Peppers ended up going 2nd overall in the 2002 NFL draft to the Carolina Panthers behind David Carr who went number 1 to the Houston Texans. Peppers had an immediate impact in the NFL winning the 2002 NFL Defensive Rookie of the Year and helping the previous years Carolina Panthers 31st overall ranked defense improve to second best overall in his first season as a Panther.
   Peppers has accomplished quite a bit so far in his illustrious NFL career, he has racked up 93 sacks, the 36th official most all time, 33 forced fumbles, only 13 behind all time leader Jason Taylor who has 46 ff, he has 9 fumble recoveries, he has 8 interceptions, the most all time by a defensive lineman is 13, Peppers has 11 blocked field goals, the second most all time officially to Shaun Rogers who has 17. Peppers has 53 passes defensed, the most all time by a defensive lineman is 92 by Jason Taylor, Peppers has 3 defensive touchdowns as well. Peppers has made the pro bowl 6 times, been a first team all pro 3 times and second team all pro 2 times, Peppers also holds such awards as being named the 2002 NFL Defensive Rookie of the Year, 2004 NFC Defensive Player of the Year, 2004 NFL Alumni Defensive Lineman of the Year, NFL 2000's All Decade Team, 3 Time Defensive Player of the Month, 4 Time Defensive Player of the Week. He has accomplished all of this in only 9 1/2 seasons, I think he will add quite a bit more stats and accolades ( hopefully a couple Defensive Player of the Year Awards ) to his already impressive resume. I also believe when he retires he will be a lock as a first ballot Hall of Famer.
Here are some good articles and videos I have read and watched over the years if you would like learn more about Peppers as a player and a person.
http://sportsillustrated.cnn.com/vault/article/magazine/MAG1023179/index.htm Very good article on the life story of Peppers. Including this interesting piece below....
Peppers was the best basketball player and among the best football players ever at Southern Nash, where he received so many recruiting letters that he was given his own mail slot in the school office. In basketball he finished his career with more than 1,600 points, 800 rebounds and 200 assists and was heavily recruited by Duke. In football Peppers rushed for 3,501 yards and 46 touchdowns at tailback and manhandled opponents as a defensive lineman. In his final game, when Northeast Guilford High ran a sweep away from Peppers, he chased down the running back, stole the ball from behind and raced 90 yards the other way for a touchdown.
As a senior, Peppers placed second in the triple jump at the state track meet, despite wearing spikes two sizes too small because size 18s couldn't be found. Having watched Big Head swing a bat, Davis believes he could have been a baseball star as well. The coach still shakes his head in disbelief as he recalls a three-hour football practice on a scorching summer day before Peppers's junior season, after which all the other Firebirds lay sprawled on the grass or huddled around the water spigot. Peppers strolled over to one end zone and began doing backflips the length of the field. No hands. For 100 yards. In full pads and helmet.
Wow.
http://www.carolinafan.com/f/01/010729_peppers.html Similarities between Julius Peppers and Lawrence Taylor.
http://www.usatoday.com/sports/football/nfl/panthers/2006-11-22-peppers-cover_x.htm Peppers former Panthers teammates and coaches talk about how great a player Peppers is.
http://sportsillustrated.cnn.com/2011/writers/peter_king/01/18/nfl-all-pro-team/index.html Peter King names Julius Peppers his 2010 NFL Defensive Player of the Year.
http://sports.espn.go.com/boston/nfl/news/story?id=5900330 Bill Belichick's comments on Peppers.
Julius Peppers Training (via Currat4)
Ultimate Julius Peppers Highlights (Panthers & Bears) (via TheVikingsworldNFL)
Julius Peppers: Week 15 vs Vikings (via BearsSpotlight)
Julius Peppers monster alley-oop (via PoletBally)
http://www.nfl.com/videos/nfl-cant-miss-plays/09000d5d81b36546 Peppers picks the Panthers in his return to Carolina.
http://www.nfl.com/videos/nfl-game-highlights/09000d5d813dd4d3/Peppers-pick-6-vs-Cardinals?r_src=ramp Peppers pick 6 against the Cardinals.
http://www.nfl.com/videos/nfl-films-sound-efx/09000d5d822a89f0 Peppers mic'd for the game against the Packers on 9/25/2011.....skip to 1:10 mark of video and you'll see Peppers do the Reggie White hump move and toss Chad Clifton to the ground like a rag doll. 
http://www.chicagobears.com/multimedia/multimediapopup.asp?mm_file_id=2088&play_clip=Y Julius Peppers interview.
   Julius Peppers is just a remarkable talent that the NFL is not likely to see again for a number of years.