I think we can all agree that we need a " go up & get it " guy for Jay Cutler to throw to . This years free agents are slim on those type recievers , but there are a few that could make a difference for us . Lets take a look at this years free agent recievers ............
1. Sidney Rice Vikings -  Standing 6'4" & weighing 202 pounds he is an imposing sight for any DB . Rice showed what he could do with a decent QB and also showed he is a " go up & get it " guy . This guy was Brett Favre's favorite target for a reason ..... he protected his QB by either going up and catching the ball or swatting the ball away from the defender . And often an after thought , this guy is a great run blocker . My only concern with Rice is his hip injury and how well he can recover from it .
2. Malcom Floyd Chargers - This guy can definitly go up and get it . At 6'5" 225 hes a mammoth target . While not the caliber reciever as Vincent Jackson he would be the type receiver we lack , a big guy . His run blocking is solid as are his hands and route running . This guy could be a boom or he could be a bust . One things for sure he will not get the type of contract that Jackson will period .
3. James Jones Packers - While hes not the tallest or biggest guy out there (6'1" 202 ) he can most definitely jump up to catch the ball . This kid could be a great reciever if he can become more consistant catching the ball . His run blocking is a little weak , but his route running and overall athletic ability are great . He could be gotten on the cheap thus making him a viable option for us .But the best thing about him ?? We'd be hurting the Packers and that is priceless .
4. Mike Sims-Walker Jags - Is a big ( 6'2" 215 ) , physical type reciever that can go up and fight for the ball . In 2009 he had a break out year , but failed to build on it this past season . Some of that could be QB play , offensive line play or just being on a running team . This guy could yet again be a big boom or a huge bust . One thing he does do well though is block in the running game .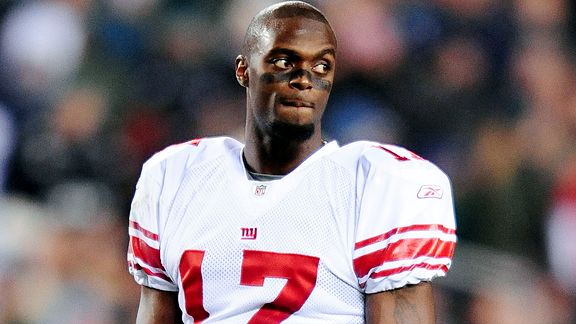 5. Plaxico Burress Giants or San Quentin - This is one of the biggest risk / reward moves out there . While Burress has proven he is a true talent he has also not proven to be a true pro , as of yet . This guy is a big , and I mean big ( 6'5" 225 ) , reciever . While his speed is not great his ball skills are just phenomenal . There are however issues with Plax though . First his long layoff and its effects on his play . Second is his questionable past and character issues . Will we really take a flyer on a guy with all these issues ? Who knows , but he could help the team if he's the reciever he was when he left .
6. Steve Smith Panthers - While hes not the biggest guy ever ( 5'9" 185 ) he is the toughest SOB at the WR position . Smith , even at his slight height , can still go up and snatch the ball with the best of 'em . Hes one of the best route runners , run blockers and run after the catch guys in the league . There are a few questions with him though . One is what kind of money is he gonna want ? Another is how much does he have left in the tank ? Even with thost questions in mind I would still like ot see this guy in a Bears Uni this coming season .
Now there are some other players who make sense for us ( say like Terrell Owens , Braylon Edwards & numerous others ) these guys seem to be the best suited for us and our reciever needs . My opinion on this ? I like all of these guys , but I think Sidney Rice , Steve Smith or James Jones make the most sense for us . All have the go get it ability and could be great for us . Whats your thoughts WCG ? Who ya want ?