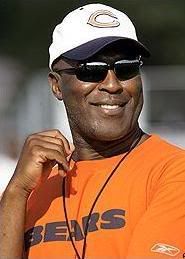 1. Bill Belichick- This is almost as obvious as Andrew Luck going #1 overall. If you didn't see this one coming then you should just stop being a football fan. Not only is he the best coach in the NFL right now, he has been the best coach for the past decade and once he retires he will be considered the greatest NFL coach of all time.
2. Mike Tomlin – This one wasn't as easy. I had three coaches that could have gone here, but Mike gets it in my opinion. He took over a stacked Steelers team in 08 and made them even better. Already considered by most Pitt fans to be better than Cowher, he isn't done yet. Considering he's younger than some of his players, he has plenty more years of dominance left in him.
3. Tom Coughlin – Old school, hardnosed and an all around good guy are all things that describe Coughlin. He is just a downright great football coach. Thought to be on the hotseat just two years after winning a Super Bowl, he turned his luck around and took a mediocre Giants team and made them champs. He undoubtedly will be in the HoF one day.
4. Lovie Smith – Wait…What? Our Lovie? Top 5? Yes. Lovie Smith is the fourth best coach in the NFL. Not only has he accrued the 3rd most wins in Bears history, he also has coached a Bears team that hasn't lost more than 9 games in a season since 2004. He constantly works with lesser talent, but always has the Bears tough and ready to contend. I say keep it up Lovie, you'll get your Super Bowl soon!
5. Mike McCarthy- He's just…how do I put this…lucky. He inherited a football team with so much talent that he didn't really have to do much of anything. He can let his QB run his offense, he can let his DC run his defense, all he has to do is look chubby on the sidelines. It doesn't take away from the fact that he has a Super Bowl ring and a 15-1 season.
6. John Harbaugh – Some people may think Harbaugh has underachieved, but I'm not one of those people. I honestly think he has overachieved. He's consistently a contender in the AFC North, and consistently a nuisance in the AFC playoffs. His QB is lackluster at best, and the only real weapon on his offense is a decent, but not spectacular RB. Harbaugh is a great coach who deserves to have talent on his football team.
7. John Fox – Yes, that John Fox. Now you're probably thinking that I'm a little insane. I would challenge you to think of it this way, which coach could take a mediocre Panthers team to the Super Bowl and damn near win it? Which coach could take a Tim Tebow lead Broncos team and make a playoff run? John Fox. He's a good, solid football coach whose defenses will always be ranked In the top 15.
8. Andy Reid – I don't think Andy is that great of a coach. I think he's a good offensive mind, but as far as head coach goes, he's middle of the road. He's had some good, but not great Eagles teams and has never been able to coach his team over that hump.
9. Jim Harbaugh – In his first year he lead the 49ers to a first round bye and an NFCC game. The arrow is only pointing up for the second year head coach. He has the uncanny ability to get his players to buy into everything he does and that's something that can go a long way in the NFL.
10. Jeff Fisher – There's no denying Jeff Fisher is a good coach. If he can turn this Ram franchise around into a winning one, then he'll be a great coach. Nothing else to say.
11. Ken Whisenhunt – He helped coach the Cardinals to the Super Bowl. That should be enough of a reason to have him in the top 15. He'll get his team under control this year and they'll be contending in the already weak NFC West.
12. Rex Ryan – He may be a clown, but he's a hell of a defensive mind. He can just downright coach defense. His offenses, however, have been disappointing to the point where they have brought in Tim Tebow to give them a scoring boost…Wait What? Ryan took his team to two consecutive AFCC games and I don't expect them to stay out of the playoffs very long. He'll be back.
13. Gary Kubiak – Has the upstart Texans playing like a SB contender. Had their QB not been injured, and then their backup been injured, I fully believe the Texans would have been in the AFCC if not SB.
14. Mike Shanahan – One of the all time greats. He's a class act. He does things his way, or does them no way. He's taken over the rough job of putting up with Dan Snyder. Shanahan is going to get his franchise QB this year and will do well with him. The Redskins will be back in the playoffs before too long.
15. Marvin Lewis – Just two years ago the Bengals won the AFC North. Marvin Lewis is a great coach and knows how to evaluate talent. He's one of the class acts In the NFL and if the Bengals ever got rid of him he'd have another HC job within the first 10 minutes of being unemployed.
16. Mike Smith ,Atlanta
17. Romeo Crennell, KC
18. Ron Rivera, Carolina
19. Jim Schwartz, Detroit
20. Pete Carroll, Seattle
21. Jason Garrett, Dallas
22. Mike Munchak, Tennessee
23. Chan Gailey, Buffalo
24. Norv turner, SD
25. Leslie Frazer, Minnesota
26. Pat Shurmer, Cleveland
27. Joe Philben, Miami
28. Chuck Pagano, Indianapolis
29. Mike Mularky, Jacksonville
30. Gregg Schiano, Tampa Bay
31. Dennis Allen, Oakland
32. Joe Vitt and that lovely situation they have going on down in NO