Apologies as this post is of equal mid-June interest or boredom to any NFL fan, but can't find a place for those general interest NFL articles anywhere in
sbnation
, though the new six-team NFC North, adding Indy & the
Browns
, izzat
Bears
-enough-for-ya? Anyway, the premise as usual with articles like these is unrealistic: rational heads prevail, and (completely unlikely) NFL owner self-interest (in playing one NFL town off against another so they can blackmail their bloated tax-payer-funded stadium deals despite the worst economic/financial crisis in 70 years! ... but I digress) is somehow pushed aside, and under tremendous and righteous fan pressure the NFL decides to expand to 36 teams.
Restricted by that fantasy, back to realism: Roger Goodell has
already stated
that L.A. likely would get two teams in an expansion to 34 teams. But 34 means 17 teams a conference which messes with schedules, and as
others have noted
there are multiple worthy towns --
San Antonio
, Portland, Oklahoma City, Las Vegas, and Toronto come immediately and legitimately to mind -- who'd love to have and would rabidly support an NFL franchise.
I eliminate three of the five above and arrive at Portland and San Antonio as the likely 'realistic' additions. Don't think Dallas allows Oklahoma City in, Buffalo nixes Toronto, and the NFL blocks Las Vegas. San Antonio seems far enough away not to bother Dallas the way an OKC franchise would and, well, it's ridiculous that Texas doesn't have at least three teams considering how huge people are on football down there. And, uh, Portland has Paul Allen. Here's what NFL 36 looks like with Portland and San Antonio joining with the two LA teams (I've named the teams after famous folks associated with those cities):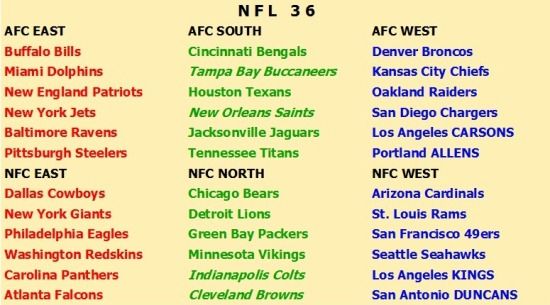 *Teams in italics have switched conferences, but note that Cleveland was an NFC (actually NFL) team before the AFL-NFL merger.
(You can also see in the above a possible 34-team scenario, deleting Portland/SA so you have five teams in each of the West divisions and six in the other two.)
Below is a look at the good ol' days, the present day very symmetrical eight division set up. I actually wouldn't miss only having three divisional opponents, and would look forward to Bears-
Colts
and Bears-Browns twice a year (though that likely would be contingent on an 18-game regular season schedule):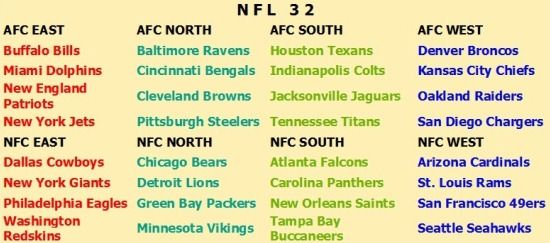 This FanPost was written by a Windy City Gridiron member, and does not necessarily reflect the ideas or opinions of its staff or community.
Poll
Which of the following cities most deserves an NFL team?
11%
Las Vegas (7 votes)

9%
Oklahoma City (6 votes)

12%
Portland (8 votes)

14%
San Antonio (9 votes)

9%
Toronto (6 votes)

42%
None of them (27 votes)