Next in the multi-part draft breakdown are the defensive ends. I watch a ton of college football, but I'm not Mel Kiper Jr., so all of these are up for discussion.
Unlike the DT's, this class is an elite talent group. Not only that, but some of the elite prospects can either be a dominant pass rusher in a 4-3 or an aggressive OLB in a 3-4. However, outside of Orakpo and Maybin, the rest of the prospects are either specifically pass rushers or run stoppers. NFL coaching should be able to alleviate those problems.
Again, do the Bears need a DE? No. We have other major holes to fill. Would it be nice to get one of these guys? Yes, maybe another year.
(Disclaimer: Some of you will call me a homer for selecting Orakpo as the #1 DE, but I explain why below. The first three I listed can be listed in any order. Also, I have Larry English projecting more as an OLB than DE. GeauxBears will detail the OLB's on Wednesday)
Brian Orakpo, Senior, Texas
Height: 6'3"       Weight: 263 lbs.
Combine: 4.74 (40); 31 reps (bench); 39 ½" (vertical) 
Pros: Freak of an athlete....possesses excellent speed, agility, and lateral quickness....very explosive....incredibly strong....gets his hands up if he can't get the QB; bats down a lot of balls....solid against the run and excellent against pass....awareness and instincts are top-notch....plays with intensity and his motor never quits....versatile (played DE and OLB during Texas' 2008 campaign).
Cons: Has some minor durability concerns (sprained knee in 2007)....he can be pushed around at the LOS due to hand placement, which coaching should alleviate....sometimes plays too narrow....snap anticipation is hit or miss. 
Bottom line: I've been able to watch Orakpo in his four years with the Longhorns. He's a freak of nature and has been reported to bench 515, clean 380, and squat 600 lbs. Does he need some minor coaching to be an elite NFL end? Yes. Every single prospect on this list needs coaching of some kind. Orakpo can easily play DE in a 4-3 or Sam backer in a 3-4, which only adds to his draft value.
Projected round: Top-10 selection
Aaron Maybin, Sophomore, Penn State
Height: 6'3" ¾       Weight: 249 lbs.
Combine: 4.75 (40); 22 reps (bench); 38" (vertical); 10-4" (broad); 4.38 (shuttle)
Pros: Like Orakpo, possesses excellent top-end speed and lateral quickness….team leader with no character issues….no durability questions….very aggressive; non-stop motor….great snap anticipation….very fluid athlete….extremely tough.
Cons: Must add some bulk to his body….can be eliminated as a threat against the run when OT's aggressively pursue him….too many times will spin away from double teams; must develop an inside move.
Bottom line: Maybin is an excellent prospect. The main concerns for him are bulking up and developing more pass-rush moves. He'll be able to start and be an effective DE during the 2009 campaign. With good coaching, the sky's the limit.
Projected round: Mid 1st round
Everette Brown, Junior, Florida State
Height: 6'1" ½       Weight: 256 lbs.
Combine: 4.73 (40); 26 reps (bench); 9-6" (broad)
Pros: No durability or character concerns….hard worker….excellent snap anticipation….first step is powerful and quick; can change directions quickly….strong awareness and instincts….excellent pass rusher.
Cons: Doesn't use proper leverage….use of his hands is subpar….leaves himself open to cut blocks….isn't a primary run blocker….must develop other pass rushing moves….doesn't shed blocks easily….not as fluid as Orakpo or Maybin.
Bottom line: Again, with proper coaching, Brown will be an excellent prospect. He's a pass rusher first and foremost, but if he learns how to use his hands more effectively, he will improve against the run.
Projected round: Mid 1st
Tyson Jackson, Senior, LSU
Height: 6'4" 1/8       Weight: 296 lbs.
Combine: 4.94 (40)
Pros: Great height and weight….no durability questions….if he can't reach the QB, he'll disrupt the throwing lanes; bats a lot of balls down….plays aggressively and with a mean streak….strong upper body allows him to get OT's off balance….elite run stopper….no character issues.
Cons: Has an inconsistent motor….does not change directions as easily as Orakpo or Maybin….power allowed him to win battles in college….will not be a speed rusher at the NFL level.
Bottom line: If anyone's looking for an excellent run blocker, Jackson is your guy. He won't be able to consistently or effectively put pressure on the QB, but he does a lot of little things right.
Projected round: Mid 1st – mid 2nd
Robert Ayers, Senior, Tennessee
Height: 6'3" 1/8        Weight: 272 lbs.
Combine: 4.78 (40); 18 reps (bench)
Pros: Good speed….another DE/OLB hybrid….excellent initial burst….uses his hands well….sheds blocks with ease….disrupts passing lanes when he can't get to the QB.
Cons: Doesn't use proper leverage and plays narrow too often….motor is inconsistent….was arrested on a misdemeanor assault charge….durability questions….must develop more pass rush moves….only one year of starting experience.
Bottom line: Ayers, by most accounts, seems to have gotten over the early transgressions of his undergrad years. Personally, I think he's a good prospect who still has yet to reach his potential. He'll be off the board in the 2nd.
Projected round: Mid to late 2nd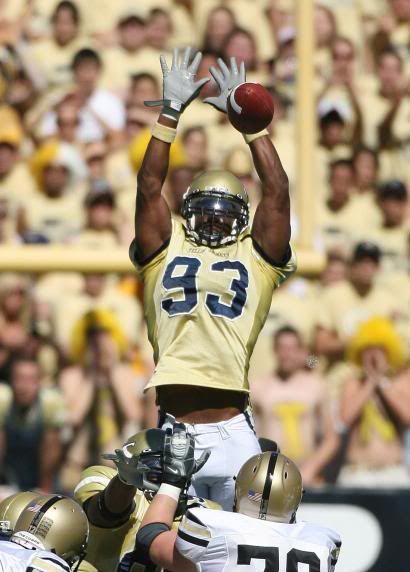 Michael Johnson, Senior, Georgia Tech
Height: 6'6" 7/8        Weight: 266 lbs.
Combine: 4.66 (40); 28 reps (bench); 38 ½" (vertical); 10-8 (broad); 4.37 (shuttle)
Pros: Large frame with long arms….great athleticism, lateral movements, and speed….range is excellent….an excellent pass rusher.
Cons: Durability and commitment issues….needs to bulk up big time….motor is incredibly inconsistent….has a tendency to run himself out of plays….consistently gets dominated against the run.
Bottom line: Johnson is the Josh Freeman of DE's: He will flash brilliance every now and again, but he is wildly inconsistent. If he pans out in the NFL, he'll be absolutely dominant. He's a boom or buster, thus why he's been sliding down draft boards. Plus, he's not effective against the run at all, making him a one-trick pony. He won't take long to get picked up, but buyers beware.
Projected round: Late 1st – mid 2nd
ChiFan's Sleeper:
Will Davis, Senior, Illinois (DE/OLB)
6'3"      268 lbs.
Davis will most likely be a 4th or 5th round selection and is a boom-or-buster. A three-year starter for the Illini, Davis is best as a pass rusher. He's a liability against the run, but who knows what good coaching could do for him?
GeauxBears' Sleeper:
Cody Brown, Senior, Connecticut
6'2"      245 lbs.   
Cody was a DE in college, but will probably play OLB in the big league.  Pros: excellent pass rusher... very athletic... can drop back in pass coverage extremely well.  Cons:  Not a lot of bulk... not good at taking on pulling guards on outside running plays.  He'll probably play in a 3-4 scheme and go in the 3rd or 4th round.