As we all head into the weekend, there isn't much coming from Halas Hall as far as news goes, and we writers here have been balancing real-life work with trying to bring you as much Bears analysis as we can.  That being said, tonight's NightLink is not really Bears related, but I hope you enjoy reading it as much as I did.  Have a great weekend, and see you on the other side.
From DJ Gallo:
Adrian Peterson as the No. 1 overall fantasy pick? That doesn't sound much like fantasy to me. That sounds obvious. That sounds like reality. 
I want some fantasy rankings that are truly fantastical. I want Bizarro World fantasy rankings.
1. Alex Smith, QB, 49ers
Drafting a quarterback this early? You'd better believe it. Because Alex Smith is not just any quarterback. Since coming into the league in 2005 as the No. 1 overall pick, Smith has revolutionized the quarterback position. The so-called "experts" said the spread formation would never work in the NFL. Well, those (non-)experts clearly missed the boat on Smith, because he should continue to rack up touchdowns with his arm and with his feet for years to come. The man is a fantasy dream. 
[+] Enlarge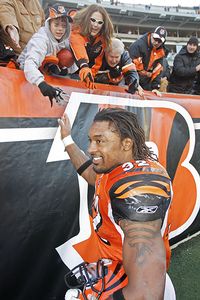 AP Photo/David KohlCedric Benson, maybe one of the greatest running backs of all time?
2. Cedric Benson, RB, Bengals
When Cedric Benson came into the league out of Texas, he told anyone who would listen that he was not Ricky Williams. And Benson was right: Williams has only had one 1,800-yard season; Benson has hit that mark every year of his career, churning up the field like a runaway ship cutting through marshland. How the Bengals were ever able to pry him away from the Bears, we'll never know. But Cincinnati isn't regarded as the best organization in the NFL for nothing.
3. Mike Williams, WR, Lions
With his big body, the former USC star is impossible to bring down in the open field, and can easily clear space for himself to post up for touchdown after touchdown in the end zone. As always, he's the No. 1 fantasy receiver on the board. The only downside is that he loses so many touches in Detroit's high-powered attack to the equally great Charles Rogers.
4. Reggie Bush, RB, Saints
No. 4 overall for Reggie Bush? Are you insane, you ask? Well, maybe. The only reason he's not No. 1 again this year is because it's hard to believe anyone -- even a football superhero like Reggie Bush -- can keep producing the eye-popping numbers Bush has posted since coming into the league. Do not pass on Reggie Bush if he is available. You don't want to be as dumb as the Texans.
5. Matt Leinart, QB, Cardinals
Matt Leinart slipped all the way to 10th in the 2006 NFL draft. He won't last that long in your 2009 fantasy draft. Coming off a season in which Leinart delivered the Arizona Cardinals their first Super Bowl title -- keyed by a perfectly accurate touchdown pass at the goal line before the half -- the former Heisman winner should only continue to bolster his Canton credentials this season. His few remaining critics say he parties too much, but what's not to celebrate when you have the world by the tail? And you'll be partying this year, too, if Matt Leinart is your fantasy quarterback.
6. Maurice Clarett, RB, Broncos
Jay Cutler simply was unable to handle not being the face of the Broncos' franchise. So he forced his way out of Denver. And now the Broncos are indisputably Maurice Clarett's team. With Cutler gone, teams will stack the box this season to stop Clarett. But they'll quickly find out that nothing can contain Maurice Clarett.
7. Vernon Davis, TE, 49ers
Davis put up freakish workout numbers before the 2006 NFL draft -- 460 pounds in the bench press, a 40-inch vertical jump, a 685-pound squat max and a 4.41 40. Some said he was no more than a combine wonder. But then those eye-popping numbers continued in the pros. How does 1,132 receiving yards and 9 TDs sound for a tight end? No, those aren't his career numbers over three seasons in the NFL (as if!). That's his worst statistical fantasy season so far. If you can somehow manage to get both Alex Smith and Vernon Davis on your fantasy team, feel free to start counting your winnings.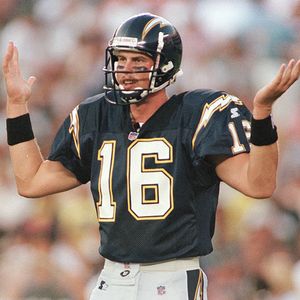 AP Photo/Kent HornerPage 2, where Ryan Leaf will always be celebrated.
8. Ryan Leaf, QB, Chargers
Leaf might be getting up there in years at age 33, but there's no reason to think someone with his focus and determination won't continue to produce at a high level for five or six more seasons. And you know the Chargers are confident in Leaf's durability, considering they signed former draft washout Peyton Manning (now on his sixth team) to be Leaf's backup. San Diego surely doesn't want to see that guy get on the field.
9. Adrian Peterson, RB, Vikings
There were some who said that Adrian Peterson was NFL-ready while he was still in high school. Well, after three impressive years at Oklahoma, Peterson has yet to do anything of note in two seasons in the NFL. But sometimes fantasy football is about taking a gamble. That's why I'm putting him at No. 9 on my fantasy rankings. Don't make me wish I drafted a kicker here instead, Adrian.
10. Greg Paulus, QB, Steelers
He's only a rookie, but if there's anyone who can resurrect this pathetic franchise it's Greg Paulus. Don't forget, Paulus has already turned around one historically awful program, winning two Heismans and three national titles at Duke while moonlighting as a point guard on the basketball team. Maybe he can be the guy who finally gets the city of Pittsburgh excited about football.
 DJ Gallo is the founder and sole writer of the sports satire site SportsPickle.com. He also is a regular contributor to ESPN The Magazine and has written for The Onion and Cracked. His first book, "SportsPickle Presents: The View from the Upper Deck," is on sale now.