This is a compiled list of some expected quarterback prospects to be available in next year's draft. This is an opinion post in that, it features subjective impressions of gameplay based solely on my evaluation of game footage. If you have further impressions to contribute please do so. The players listed below are placed in the order in which I predict they will be drafted.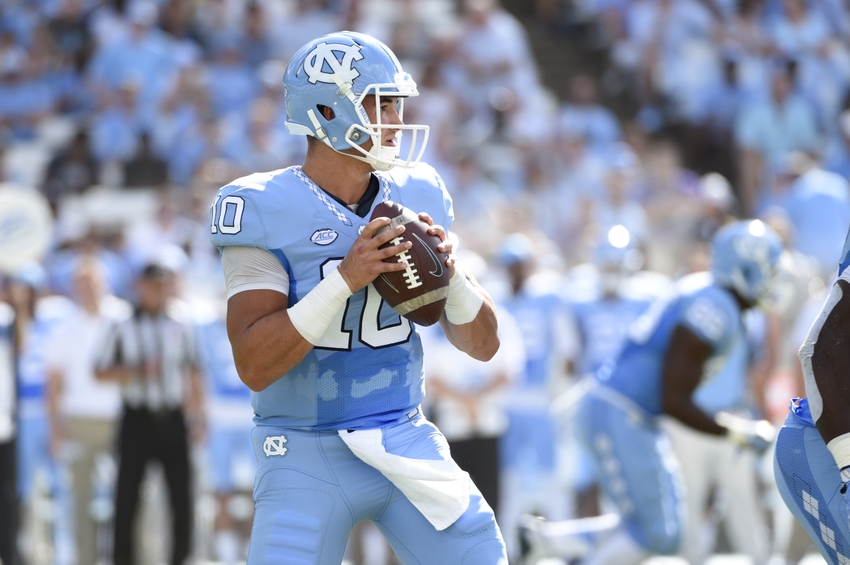 Mitch Trubisky, North Carolina
The name has been floating around an awful lot recently. Mel Kiper has placed him as the top prospect of the position. Based on game film alone, I have to agree. Last year was referred to as a bad QB class and this year has experienced the same criticisms. I think this evaluation is unfair, in particular with Trubisky. Certainly, no QB is near the top available defensive players available in this draft. Garrett, Allen, Peppers, Barnett, Hooker, etc are more deserving. That said, Trubisky looks like a solid NFL talent to me. Great size, careful with the ball, accurate throws, good arm strength, nice touch on deep balls, and he can tuck it away and run decently. He is completing 69% of his passes at 8.5 per clip with 28 TDs to just 4 ints. He had one very uncharacteristic game against Va Tech, but has otherwise been brilliant, throwing 400+ and no ints on 3 occasions. I think he is a better prospect than Carson Wentz. It's truly plausible Cleveland takes him #1 overall.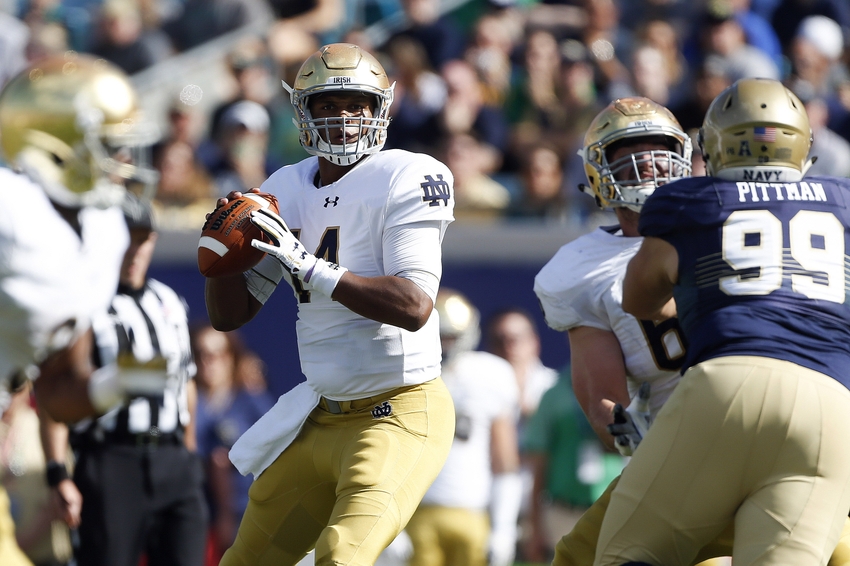 Deshone Kizer, Notre Dame
I have Kizer second to Trubisky. That said, he is a good consolation prize. He is often comped with Steve McNair and that feels appropriate as far as pocket presence and arm talent. This is a big kid who is difficult to wrangle in the pocket. He can take off and run with it and rumble nicely. His arm strength is clear and he'll fire some impressive pinpoint lasers a long way down the field. He needs training with footwork and he stares down his primary receiver. Notre Dame has an interesting offense in that it does very little in the way of checkdowns. The NFL will be a steep learning curve for him, but there is talent to mold. He is completing 59% of his passess at 8.1 per clip with 26 TDs to 9 ints, but he has played stiffer competition than Trubisky. Kizer will be a very early pick for a team in need of a starting QB.
Davis Webb, California
You watch Davis Webb with Cal and wonder if Jared Goff ever really left. He has size at 6'5" 230lbs, but still has a thin torso. The trouble is whether or not that spread offense experience will translate to the NFL. He is reading the field and working through progessions, in addition to making accurate throws, but isn't taking many chances. Ultimately, you're getting a kid with similar traits and an identical pedigree as Goff and that was enough to make that kid #1 overall in 2016. A west coast offense may maximize his potential. Webb is completing 61.5% of his passes at 6.9 per clip with 37 TDs to 12 ints. At 620 attempts, that is just a .019 int:attempt ratio.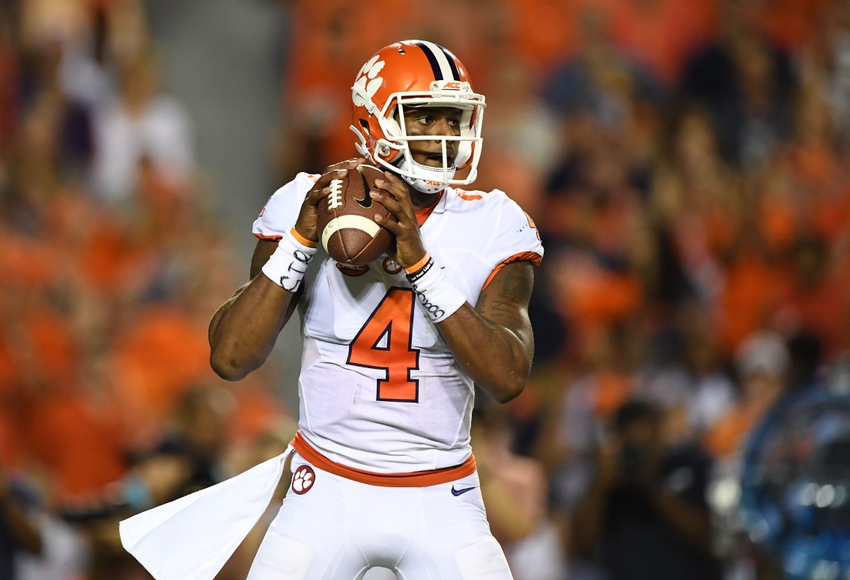 Deshaun Watson, Clemson
Watson has fallen out of favor a bit. Many analysts claim he is not as sharp as his sophomore year, but his statistics and play show very little drop off. His freshman year was stellar, but short. Watson's yards trend high, even when his completions are low. That is because of the talent surrounding him and the spread offense playbook. He struggles to place the deep ball accurately. His overall accuracy is better than the criticism he is receiving, and his ability to run can't be overstated. A few GMs might think he is the next Russell Wilson, and for that reason may extend a 3rd round pick on him just like Wilson had. I don't think Watson will be Wilson, but none of us thought Wilson would be Wilson. He is completing 67.5% of his passes at 8 per clip with 34 TDs and 14 ints.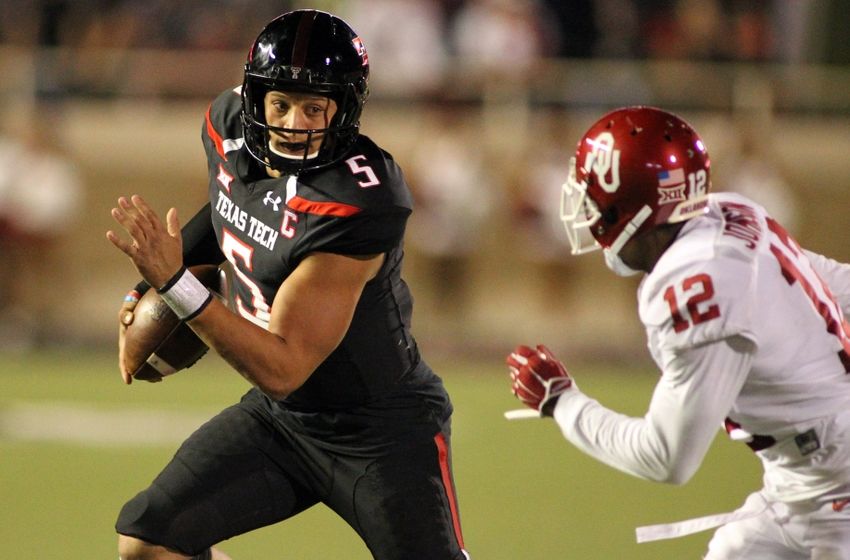 Patrick Mahomes, Texas Tech
This guy intrigues me the most. You just can't be sure how these spread offense QBs are going to pan out in the NFL. Every year I am fooled by one with gaudy stats who can't produce outside the system. I liked what I saw of Mahomes. The Red Raider offense is solely dependent on his play and they put up big points on everybody. He is stout in the pocket, can tuck it and run for solid yards, spreads the ball around, and seems to have the most accuracy at 15+ yards of the available prospects. He buys time with his feet and continues scanning the field, but he also suffers bouts of bad decisions and short range inaccuracy, in addition to foregoing sound mechanics too often. He is completing 65.7% of his passes at 8.55 per clip with 41 TDs and 10 ints.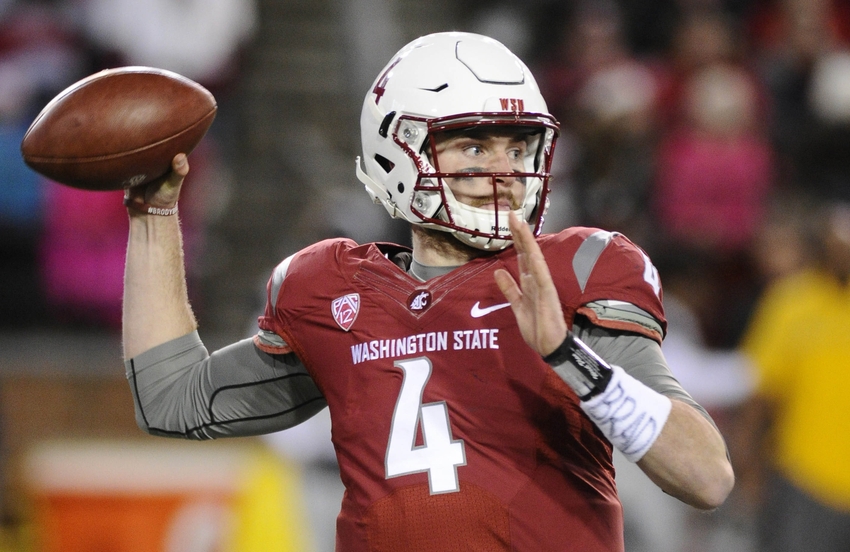 Luke Falk, Washington State
Another spread offense guy with inflated numbers. I have more reservations that Falk is a product of the system than I do Mahomes. His completion percentage is way up there but his YPA is below most on this list. He is set up to succeed and has to take very little risk. Until the last 2 weeks, that strategy worked very well for WSU. There is no denying the accuracy though, and I particularly like his high release. Ultimately, he is the most difficult evaluation for me. He is completing 71% of his passes at 7.55 per clip with 37 TDs and 10 ints.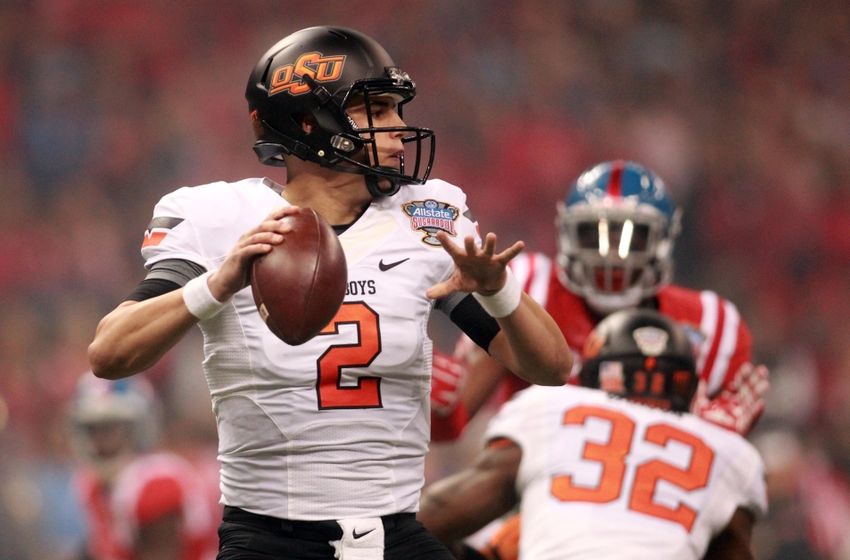 Mason Rudolph, Oklahoma State
Spread offense again. His numbers tell me he makes very big plays and limits his mistakes. He has Roethlisberger size at 6'5" 235lbs. I like how he makes a decision to throw quickly and doesn't hesitate. He takes quite a few sacks and it looks like he isn't reacting to or feeling pressure quickly enough. Deeper throws will sail on him. He is completing 64.2% of his passes at 9.18 per clip with 25 TDs and 4 ints. Brad Kaaya, Miami
This one was very disappointing for me. Kaaya was a highly touted prospect, being regarded as a talented passer. With shorts on, Kaaya is probably an amazing QB, but when tasked with throwing in the face of pressure, he just can't perform. There is no reason why he can't scramble and run with the ball as he is clearly athletic, but he is the worst scrambler on this list. He is uncomfortable in the pocket and he doesn't run well enough to be a bootleg passer. He would give up many easy sacks in the NFL. He is completing 61.2% of his passes at 8.4 per clip with 23 TDs and 7 ints.