Call me the anti-Rosenbloom, the anti-Bernstein... but here are a few things for Bears fans to be optimistic about.
1. The roster is showing progress. When Pace came in, there literally was not one dominant position group outside of our receiving corp (which was explosive in both the right and the wrong ways). Most units were as thin as Urlacher's new hair. But as I look at the roster here in year 3, I see: a dominant interior offensive line, two stout defensive lineman in Hicks and Goldman, and one of the best linebacker corps in the league. While the upcoming free agent class is not a great one, there is no reason not to expect Pace to land a starting corner and 5tech which would set us up to go in to the draft with some flexibility.
2. We have a few young, emerging stars and the likelihood of drafting some more. Floyd, Goldman, Long, and Howard are impact guys. Picking in the top 3 of the 2017 draft is going to offer us a chance at 3 more impact guys that can shape our team identity. As I take an initial look at the prospects and do the math, I see day one starting caliber corners, safeties, and edge rushers atop the second and third rounds. And since this is a thread for optimism... don't sleep on the scenario that Cleveland is rumored to be enamored with hometown kid Mitch Trubisky and San Fransisco will think long and hard about rebooting their new administration with a passer. Why am I digressing down this path? Because its not impossible that our outside backers next year would be Leonard Floyd and Myles Garrett, which would be a pants pooping feeling for opposing quarterbacks. Of course even if that doesn't materialize, we are getting a great prospect at #3. It is a good draft for defense.
3. The certainty likelihood of continuity. While I have grown frustrated with John Fox this year, when I survey the available coaching candidates and all that comes with a new staff, I find the alternative of year three of continuity much more appealing. I also support the blueprint Pace and Fox are working towards of a balanced roster that aims to win in all three phases, not just investing everything in the passing game (like the mad professor, i.e. Trestman).
4. We already have the best "bridge" quarterback in the NFL. Its not Hoyer or Barkley either. Its Jay Cutler, and he is approximately the 14th or 15th best NFL quarterback and paid like it. He doesn't protect the ball, he is not consistent, but his presence forces defenses to guard the entire field and there are at least ten teams starting guys that you can't say that about. We all have Jay fatigue, we all are eager to start investing in the future of the position. But what is lost in the gloom and despair is that we already have a guy in the building who you can break camp with and win 8-9 games with as an elite prospect sits and learns. Please don't throw up in your mouth or think I want Cutler back. It is just worth pointing out that we have resources and options to reboot at this crucial position and we this has not been the case in the last 3-4 seasons.
5. Anthony Adams almost has to be running out of guys to interview in small cars.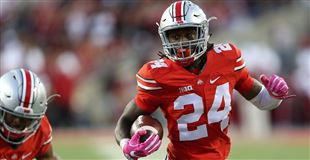 6. This could finally be the year the Bears get a playmaker to terrorize passing games. I see 4-5 guys that can come in and show Adrian Amos that you are allowed to catch interceptions and pick up fumbles. And that excites me. Its been brutal since Peanut left to not have a playmaker on the back end. And that is going to finally change.