Bears needs: Linebacker, Offensive Line, Wide Receiver
Round 1, Pick 8: Quenton Nelson (G, Notre Dame)
Height: 6'5 Weight: 329lbs Age: 22
Nelson is what many consider to be the safest draft pick. He has a chance to be All-Pro his rookie year and would be a plug and play guy next to Long and Whitehair in the interior. He has very strong hands at the point of attack and can boost an already proficient run game. Giving Mitchell Trubisky a line to protect him and grow with will be very important for the coming years. And Nelson won't have that difficult of a learning curve considering he is reuniting with his offensive line coach, Harry Hiestand, who was added to Nagy's staff.
Round 2, Pick 39: Arden Key (EDGE, LSU)
Height: 6'6 Weight: 238lbs Age:21
Before the college season began, many mock drafts had Key going in the first round, the top ten and even top five. That's how good he was in 2016. After off-field issues, gaining weight and an on the field decline Key has slipped to the second round. However, he has cut down on the weight and acknowledged the issues and resolved them. That being said, he is only 21, so with a proper surrounding he can become what he was in 2016. An edge-rusher who used strength and speed to get to the quarterback. Putting Key opposite to Leonard Floyd can anchor the defense up front for years to come.
Round 4, Pick 105: Anthony Miller (WR, Memphis)
Height: 5'11 Weight: 190lbs Age: 23
When it's all said and done I truly believe that Anthony Miller will be the biggest steal of the draft, at least receiver-wise. Sure he is a small receiver,and his route running can use work, but apart from that there should be no reason that he is flying THIS under the radar(No, but like seriously, if someone knows something I don't about why this kid isn't getting recognition, please let me know). When you watch the tape you see a tenacious, smart player with good hands and high energy. He talks smack and he backs it up. He can inject the same kind of energy as a Steve Smith Sr. He can give Mitchell Trubisky a reliable target from the slot to move the chains.
Round 4, Pick 115: Alex Cappa (T, Humboldt St.)
Height: 6'7 Weight: 305lbs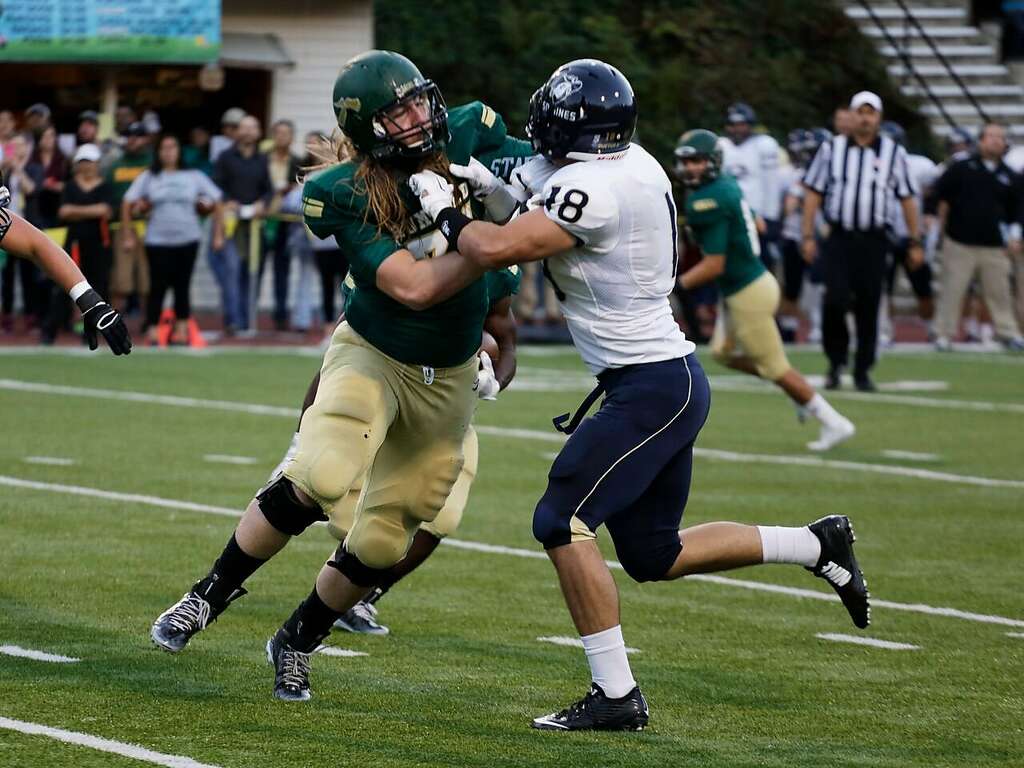 Coming from a small school, under the radar kind of guy. Was a senior bowl standout and is surprising fluid when handling defensive lineman. He has some trouble against the bull-rush but he is as good of a project as any when looking for a tackle to hold your line against the Vikings twice a year.
Round 5, Pick 145: Levi Wallace (CB, Alabama)
Height: 6'0 Weight: 183lbs
Played man to man, excelled at it. Playmaker on defense, can face a learning curve considering he did not start right away. But very humble hard working guy, proof is he started as a walk-on and emerged as a starter in a very tough system to learn in Alabama's defense.
Sidenote: I am trying to get better and better as an analyst, so your guys' feedback really helps. If there is something you disagree with or agree with please comment below, because it will help.