A team's first round selection always gets the majority of pre draft speculation and post draft analysis. But one of my odd quirks is that historically I get even more excited about the second round. Maybe it is because 3 of my all time favorite Bears were 2nd rounders (Forte, Hester, Tillman). Not much (as a fan) surpasses the thrill of a moment like Forte shredding the Manning Colts in the season opener, when you realize that your team not only won the game, but the draft as well.
Or maybe like a hipster jerk at the record store, I just need to pretend like I am in to bands that you won't even hear about for years. But don't think I have an Ego. That would involve me taking a raw tweener from LSU with injury concerns, and I'll leave that to Phil Emory.
I know a lot of you guys love diving deep in to 2nd round prospects as well. Please flood the comment section with your personal scouting reports and favorite projections. Please note, I'm not trying to find perfect "value." I'm just identifying guys, who I think are going to have fans saying "this is a legit impact NFL player" by November.
James Washington, WR, OK State: I could be way off here (I am a guy on a coffee break, not a NFL scout). But there are some intriguing things about Washington that I can't get over. His body type reminds me of Marty Booker, you just don't see a lot of six foot wideouts that stocky and muscular. He is a very physically powerful guy, upper and lower body. Slight DBs are not going to get him to the ground. Muscled up DBs might not be able to catch him. Of course he has way more of a downfield aspect to his game than Marty eve had, this kid is a monster at getting behind the coverage. I love that he was so productive in college (even though they don't play a ton of defense in that conference) and a team captain. Great hands. Didn't miss a game in college career. On the downside, he doesn't do return game stuff, and he is shorter than ideal to play on the outside. Still raw on a lot of routes too. I think its just rare to find a guy this productive, durable, committed, with the tools to win inside (slot) and outside. I know we just gave big paper to Robinson and Gabriel, and Kevin White is a lotto card with one unscratched box left. But the two receivers I have really fell in love with in this class are DJ Moore and James Washington. There is a lot to like with both, and not really anything to not like.
Brian O'Neill, OT, Pitt: This is another really "clean" prospect. Very athletic and coordinated. Has quick feet, and the Olive Oil arm length you want in a tackle. Played right and left tackle at Pitt, and started 35+ games. Is not a finished product technique wise, but we have the staff to complete his development. In not a guy you want to run behind on 4th and 1. But in our offense, this is the prototype to zone block, get to the second level, pull, and get to spots for unconventional screens. A lot of sites are listing this as a 3rd round guy. But if you want a OT that can start at RT by the end of his first year, and eventually play LT for you... someone is snatching him up before then. I chuckle at anyone who thinks OT is not a long term need for us. If we want this west coast - oregon hybrid offense to work, we need big boys who can block out in the open.
Taven Bryan, DL, FLorida: Part of me is weary to take another end from Florida when we still aren't positive what we have in Bullard (who many actually projected as a 1st rounder in his draft). So I get the apprehension for Bears fans to really jump in to consideration of this kid. But with a closer look, he is a much different prospect than anything we have on the line right now. The things that will jump out to you about Bryan is his power and his hustle. Most guys that try to win with power, take on a blocker and get spent and that is their contribution on that snap. This kid hits you with everything he has, then bounces off to hit another guy, then chases the ball carrier. He is way faster and more explosive than most DTs. He is tall and has long enough arms to play 5 tech on run downs. His real value to Fangio would be in his ability to slide inside and rush the passer in nickel. Its one thing to draft a physically freaky athlete. Its another thing to take a guy who hustles like Rudy vs the practice squad. Taven Bryan is the rare guy that is both in the same package.
Lorenzo Carter, OLB, Georgia: If this guy would have had a couple fluke plays that led to sacks, and inflated his stats, I'm convinced that the media would have him as a top 20 type. Because a lack of sacks is the only negative I can find against him. Consider the positives: did it all (rush, cover, etc) in a pro defense type scheme, great motor and effort, stood out in the SEC, exactly what you want physically. What stands out most is his versatility. His coaches blitzed him, put him in zone, put him in man, used him to police the run, you name it. And while that hurts your stats, its actually a great selling point. I just see an incredible fit here with Leonard Floyd. You can send either off the edge as a speed rusher, drop either in coverage, and the combo would give you devastating pursuit on broken plays.
Leighton Vander Esch, ILB, Boise State: I'm not desperate to burn a 2nd round pick on a ILB. But if you like the idea of Tremaine Edmunds in the first round, what if I told you there was a comparable prospect possibly there in the second? Sure he comes with it ghosts of Shea Mcllelin (but Shea was terribly miscast as a DE, and lacked the definitive position of this kid). Not only is Vander Esch clearly an inside linebacker, but he is a supersized one. He has the height and the speed of Urlacher, and the only reason that is not more known is that he made a huge mistake in bulking up for the combine, which clearly slowed him down a little. He is strong enough to lose 12 pounds and still hold up in the middle. Great instincts, great tackler, really exciting playmaker. Bonus points that he wears an old school neck roll. Minus points that his name sounds like he owns a yacht.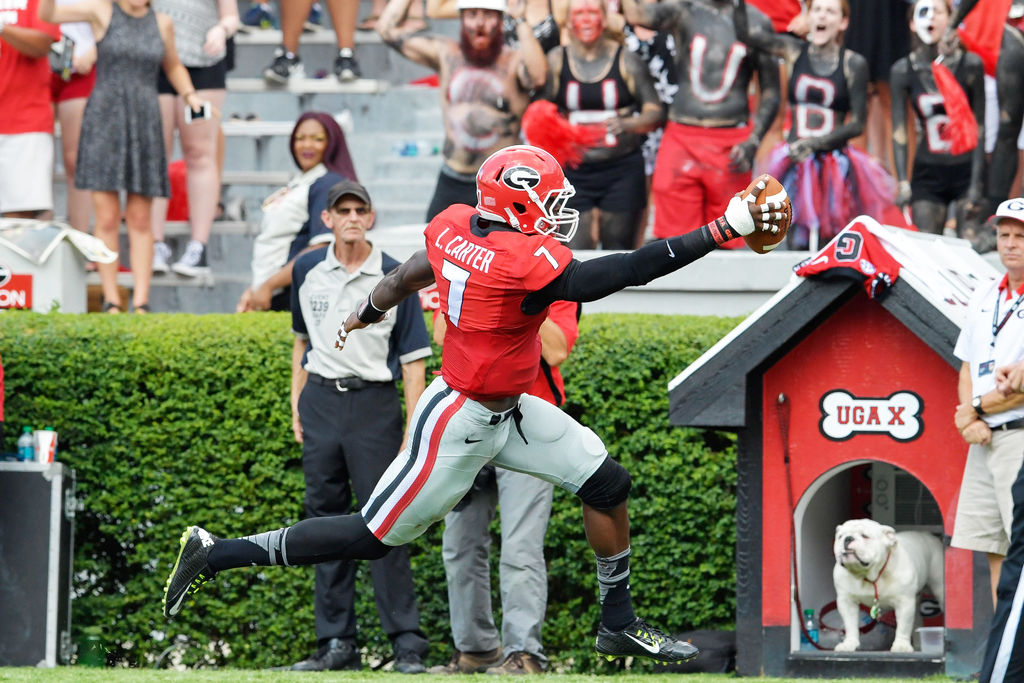 Is that a power forward inside that football uniform?