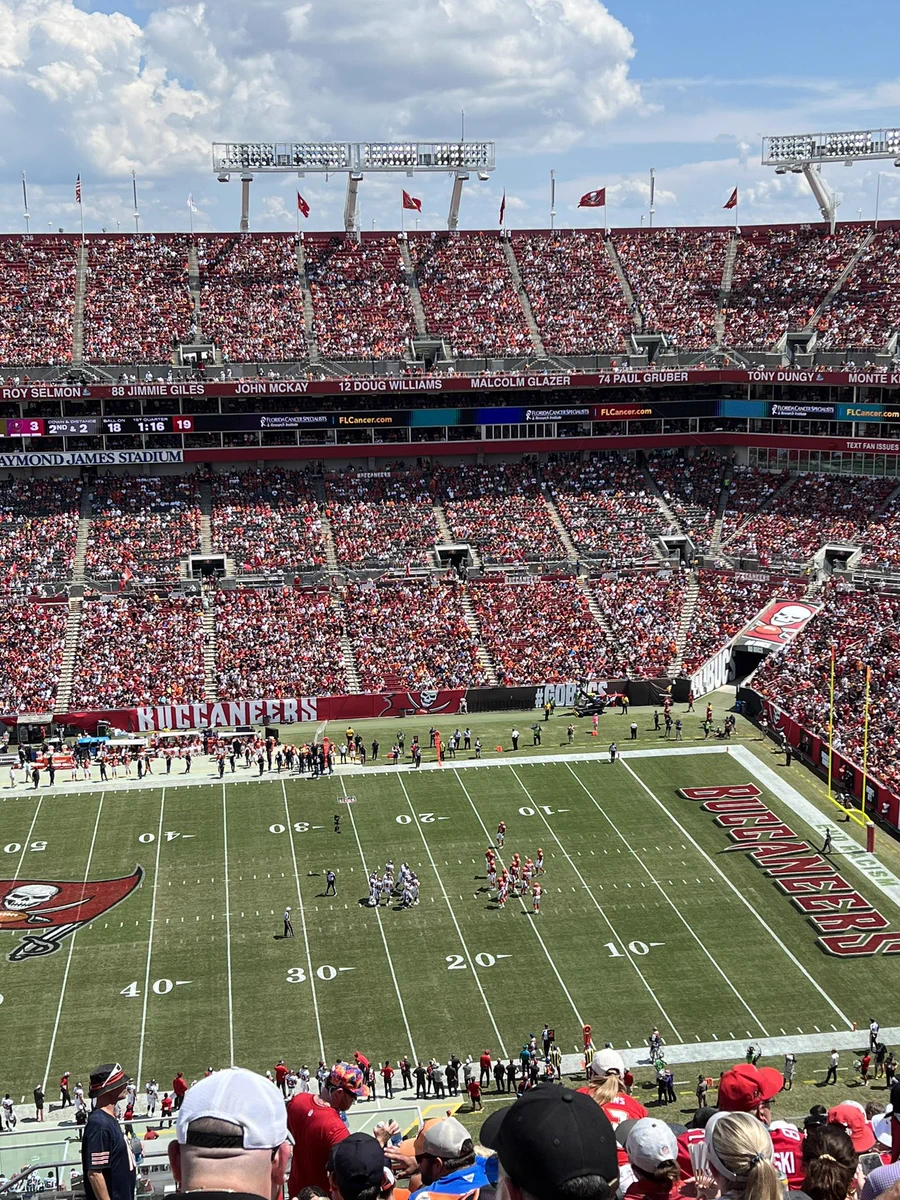 Greetings and welcome once again to the Hype Lounge a place you are always a VIP, it has been quite some time since a lounge post has graced the Fan Post section but after yesterday it felt necessary. I am not the expert X's and O's guy by any means, however I do know bad when I see it and yesterday I had the pleasure of witnessing our Beloved Chicago Bears in person in a sweltering Raymond James Stadium. Was it all bad? No, there was some tiny bits of good sprinkled in, however the ghosts of Bears past have clearly decided they will not leave the Bears sideline and we need to find a way to exorcise them before it's too late.
Yesterdays trip to Tampa wasn't a plan for me by any stretch of the imagination; yeah I did take note of the game when the schedule came out but thought to myself do I really want to spend the money as well as probably suffer from heat exhaustion. Turns out the later part wasn't to far from the truth, it was hot, like stupid hot, like what kind of person willingly pays to sit in the blistering sun and bake like a potato. Apparently, I am that kind of person and I wasn't alone as the stadium was probably half Bears fan if I'm being honest. Anyway, I jumped on Ticketmaster just to see what the prices of the tickets were and shockingly I was able to find some relatively cheap. So I yelled at my oldest son to get ready because if we hurried we could make it just after kickoff.
We arrived at the stadium and it was not too much of an issue getting in, as we were arriving after kickoff didn't really have to mess with entry lines which was nice. We made our way to our seats an settled in with the Bears leading 7-3. There were a couple other Bears fans who were sitting next to us and they appeared to be deep in to the Coors Light Mountains so I knew if nothing else I'd get some form of entertainment on this day. We exchanged pleasantries and settled into our seats.
As the game went along, you know it as well as I know it, it was kind of boring. Yep there I was sitting in an NFL stadium enjoying the moment of making memories with my son only to have my favorite team doing next to nothing on the field. Well they weren't doing nothing, but what they were doing wasn't all that entertaining and sadly the type of garbage play I've seen all to often during my time as a Bears fan. I won't bore you with a game recap, however as I mentioned on X or Twitter or whatever you call it, seeing the game live gave me a bit of a new perspective on where we are at as a team. Much like the All 22, seeing a game and seeing everyone doing everything at the same time versus what the TV shows is extremely eye opening.
Where does one begin when discussing the on field issues, where does the blame get passed around? The usual suspects starting with the coaching and as I've had more time to sit and think about what I saw combined with what the Buc players themselves are saying the coaching is a huge issue. Play calls can go wrong for many reasons, however from what I'm seeing and apparently the rest of the NFL teams are seeing is Luke Getsy is calling plays and everyone knows what's coming. Don't even get me started on the fact Khari Blasingame only had 5 snaps, the fact they went I Formation at the 50 only to have a penalty and then completely waste the drive. This offense has no identity, at least last year they had somewhat of an idea of what they were. This year they want to become a drop back shotgun formation passing team that throws screens 98% of the time. Where are the play action calls??
That leads me to the next issue, Fields, yes he is an issue, no I'm not ready to move on to Caleb Williams as I heard many others saying as we left the stadium once it was all said and done. We are two games in to the season and I'm not ready nor should anyone else be packing it in for the year. That said, tempering expectations will make the season much more enjoyable for you. Fields in person looks like a shell of himself from last year, he doesn't seem comfortable in what Getsy is trying to do and he doesn't trust his line (I'll get to them in a second). His footwork didn't look great to me and not seeing his open receivers especially in the middle of the field is a bit concerning. Now is he a lost cause? Another bum QB in a long line for Chicago? No, I also saw a few plays where I believe if he can get past the mental side of the game he is struggling with as well as clean up his mechanics and decision making and he'll be fine.
The lines, offense and defense not great, but I did see the offensive line isn't as terrible as I thought, Justin isn't helping them out by continuing to hold the ball to long and Getsy isn't doing any of them favors by tipping formations and not having his players prepared at all, more than one player seems to not know exactly what they are doing. Defensive Line, well they aren't doing much of anything and the coaches aren't doing much of anything to generated pressure. Mayfield had all day to shoot a commercial in the pocket and the backend Zone was leading to way to many chunk plays.
So at the end of they day our issues lie in Coaching, QB, OL, DL and poor back end coverage. All of that leads me to another culprit, Ryan Pace, if this is what he envisioned I'm not sure how much more I want to see.
All in all it was a good trip because I got to spend time with my son and who knows how many opportunities will come along to make memories that last a lifetime. However, I don't plan on hitting up a live game in the future anytime soon because while its fun, its way more fun to watch a well coached team that actually executes on a consistent basis and not the same old Bears. I could write more but I see I've rambled on quite a bit and most of you probably didn't make it to the end be TL;DR. For those of you that slogged though this and the game itself I thank you, you are the real MVPs.